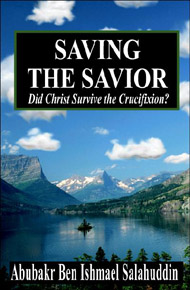 Click the book cover above to read more about this book

Ordering:
Credit Card
(Safe, Secure, Fast!)

Your favorite bookstore


Questions?

jammupress@yahoo.com


CCNOW Customer Service:
1-877-226-6977

"They deem him their
worst enemy who
tells them the truth"
(Plato)
Title: Saving the Savior: Did Christ Survive the Crucifixion?
Price: $16.95
Ordering: See left panel (Check, Money Order or Credit Card)
International: Yes.
Delivery: U.S. postal service (priority mail if located in the U.S.)
Delivery time: 2-4 days U.S.; 4-8 days International (Usually)
Publisher: Jammu Press
Format: Paperback
Pages: 408
Illustrations & charts: 30 (including cover)
Publication Date: 2001
SAN: 253 - 701X
ISBN: 0-9708280-1-2 (First Paperback Edition)
Instructions: Enjoy!

---
Summary:

"Saving the Savior: Did Christ Survive the Crucifixion?" presents irrefutable evidence that Christ survived the crucifixion, traveled across what was then known as Asia, took up residence in Kashmir, India, and lived to the age of20 years. Jesus will not be returning to this earth. He is buried under the Roza Bal mausoleum, located in the Kan Yar section of Srinagar, Kashmir, India. The Roza Bal is a large structure, still intact, and visited by people from around the world. Thirty illustrations and charts include original language documents—with English translations—that record the sojourn of Jesus Christ after the crucifixion. (See what others say about this book).

Saving the Savior also identifies and examines five major groups of humanity that are engaged in an intense struggle over the identity of Jesus. It also examines the philosophical issues surrounding this subject. It offers an intense and fascinating comparison between Eastern religion and philosophy on the one hand, and Western Christianity on the other.

Some of the fascinating personalities you will meet in Saving the Savior are: King Shalivahana, Acharya S., Dr. Alan Adler, Dr. Fida Hassnain, Zbiegniew Brezenski, Hazrat Mirza Ghulam Ahmad, Rev. John Shelby Spong, Nicolas Notovitch, Dr. Thomas Sheehan, St. Irenaeus, Robert Funk and many others. For more details about the book, click here. (See panel at left for ordering information)

Click the book cover to read more about this book